Buying groups formation: what effects on competition in the retail industry?
Formation des groupements d'achat : quels effets sur la concurrence dans le commerce de détail ?
Each year, commercial negotiations highlight the tensions between retailers and their suppliers, and public authorities are regularly called upon to balance the relationship. In this context, buying groups – which allow several large competing retailers to negotiate jointly with their suppliers – are likely to strengthen retailers' buyer power. France experienced two waves of buying groups formation in 2014 and in 2018 and the law was changed to allow the French Competition Authority (CA) – the Autorité de la concurrence – to control the formation of such alliances. This policy brief proposes a framework to analyse the effects of the buying groups on the sector as a whole. After a brief assessment of the economic forces at play based on a review of the literature, we discuss the results of two studies conducted by the authors of this note. The first one adopts an empirical approach to study the effects of buying groups formation in 2014 in France in the bottled water industry. It shows that the introduction of buying groups modified profit sharing at the expense of suppliers but also led to a decline in prices which benefited consumers. The second study discusses the efficiency of excluding private labels from the scope of buying groups – as advocated by the Competition Authority – to protect small suppliers and maintain product variety.
Chaque année, les négociations commerciales mettent en lumière les tensions entre les détaillants et leurs fournisseurs, et les pouvoirs publics sont régulièrement appelés à équilibrer les relations. Dans ce contexte, les groupements d'achat - qui permettent à plusieurs grandes enseignes concurrentes de négocier conjointement avec leurs fournisseurs - sont susceptibles de renforcer la puissance d'achat des distributeurs. La France a connu deux vagues de formation de groupes d'achat en 2014 et en 2018, et la loi a été modifiée pour permettre à l'Autorité de la concurrence de contrôler la formation de ces alliances. Cette note de synthèse propose un cadre pour analyser les effets des centrales d'achat sur le secteur dans son ensemble. Après une brève évaluation des forces économiques en jeu basée sur une revue de la littérature, nous discutons les résultats de deux études menées par les auteurs de cette note. La première adopte une approche empirique pour étudier les effets de la formation de groupes d'achat en 2014 en France dans le secteur de l'eau embouteillée. Elle montre que l'introduction des groupes d'achat a modifié le partage des profits au détriment des fournisseurs mais a également conduit à une baisse des prix qui a bénéficié aux consommateurs. La seconde étude discute de l'efficacité de l'exclusion des marques de distributeurs du champ d'application des groupes d'achat - comme le préconise l'Autorité de la concurrence - pour protéger les petits fournisseurs et maintenir la variété des produits.
Fichier principal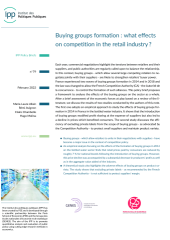 n79-IPPpolicybrief_79_Centrales_d_achat.pdf (1.22 Mo)
Télécharger le fichier
Origin : Files produced by the author(s)